Morocco is a vibrant and beautiful country, full of life and energy. Its vast desert landscapes are punctuated with vibrant towns and cities, each with its unique character. There are so many intriguing places to visit in Morocco.
Whether you're exploring the bustling souks (markets) in Marrakech or relaxing on the beaches of Rabat, Morocco's remarkable range of colors will not disappoint.
To start, Morocco is a fascinating country.
Surprisingly, Morocco was never on my bucket list.
I often travel with a group, and when Morocco appeared as the destination this year, my husband and I decided to check it out!
On our tour, we visited Rabat, Fez, and Marrakech, mixed in with other interesting historical stops along the way.
From Rabat's pristine order and cleanliness to the surrounding hills and vibrant art colors of Marrakech, Morocco offers something for everyone.
Let's get started:
First up is Rabat – Morocco's extraordinarily clean, orderly capital.
Rabat, the country's capital city, was our gateway into our tour of Morocco.
This ancient city is full of culture and history, with monuments like the Kasbah des Oudaias, a 12th-century fortress still standing today.
We landed in Rabat and stayed at Fairmont Rabat, which is directly across from Rabat's Oudaias Kasbah neighborhood, separated only by the Bouregreg River.
After unpacking, we began our journey with a tiny boat ride (25 cents) across the river, where we began to explore.
1. The whitewashed walls in Rabat are striking against the blue sky.
One of the first things I noticed were the striking whitewashed buildings that are everywhere. These traditional walls can be found in places like the medinas of Fez and Marrakech or even outside the cities.
Whitewashed walls make for a beautiful backdrop to your photos and encapsulate the true spirit of Morocco.
3. Next, the Andalusian Gardens are sumptuous and magical.
If you're looking for a floral oasis, you should check out the Andalusian gardens.
These unique gardens were created centuries ago by Muslims from Spain, who moved to the area and used their expert knowledge of plants and landscaping to create these lush spaces full of beauty and tranquility.
"The Andalusian Gardens occupy the former palace gardens which were replanted by the French during the Protectorate (early 20th century). The garden was built by Tranchant De Lunel's architect.
Located just next to the Kasbah des Oudayas, it is a very pleasant and beautiful park with a lot of flowers, roses, fruit trees, and wide alleys, and it is also very popular among locals."
4. The Oudayas Museum has a colorful, festive central corridor.
Located right along the Bouregreg River, this museum offers an array of art and history exhibits that will provide visitors with a unique cultural experience.
Whether you're admiring the intricate paintings, marveling at ancient artifacts, or exploring the grounds of this picturesque location, you're sure to find something special while viewing the hidden gems inside the Oudayas Museum.
We felt that the combination of the grounds, the scenery, and the limited but interesting collection of art and artifacts made this museum a great experience.
This museum proved to be an unexpected highlight of our week-long trip to Morocco!
From paintings and sculptures to installations and videos, there's something for everyone to enjoy. We particularly enjoyed the large collection of modern art paintings on the main floor.
Upstairs we toured multi-media exhibits. We enjoyed viewing an incredible sculptural displays and a moving photography exhibit.
Important note: We were traveling with a group of extremely discerning art connoisseurs, and they also felt this museum is a must! A 10 out of 10.
Plus, getting to the museum couldn't be more accessible with its convenient location right in Rabat's city center.
6. The ficus trees of Rabat are massive!
One of the city's iconic landmarks is the majestic Ficus trees surrounding the royal palace, which sits behind city walls. (I'm not kidding – these trees spans several yards on either side.)
Although not one of the country's typical tourist attractions, these imposing trees are visually stunning and deeply rooted in Moroccan culture and history.
Our guide told us that they provide much-needed shade during Morocco's extreme heat.
Next, on to Fez.
I had no idea what a multi-sensory experience it would be to visit Fez.
On arrival, you'll feel like you've been transported to another world.
Located in northern Morocco, Fez was established as a trading post in the 9th century and quickly became one of the most important cities in North Africa.
History lovers will enjoy touring the Medina of Fez – a UNESCO World Heritage Site and one of the largest urban areas in the world.
Here, you can stroll through narrow alleys with shops selling beautiful handcrafted goods such as carpets and pottery.
You can also experience Fez's vibrant culture in places like the Grand Mosque and the Royal Palace. Other places worth checking out are the Fez Mellah, a Jewish quarter, and the nearby ruins of Volubilis. (More on that later.)
2. We felt that The Fez Medina (or Old Town) was the most impressive/ immersive stop on our trip.
The old town of Fez is a labyrinth of cobbled streets and alleys lined with shops, mosques, and other places to explore.
The Medina of Fez is a must-see when places to visit in Morocco are concerned! Its winding alleys, towering minarets, and traditional marketplaces are sure to take your breath away.
(Side note: It is a lot to take in. I felt overwhelmed by everything I saw at a few points. Stay with it if you venture forth.)
From colorful artisan shops selling everything from leather to spices to centuries-old mosques and palaces, the Medina of Fez is an experience like no other!
With so much history and culture in one place, it's easy to see why this destination has been attracting visitors for years.
3. Many locals make homemade phyllo dough in the medina.
Endless food stalls line up along the Fez Medina.
We were able to stop and photograph this woman in the process of making dough. She uses this heated round ball to stretch the dough over and heat it through.
It's a worthwhile becuase Moroccans love their pastries! (And for good reason!)
4. The narrow streets inside are mind-boggling.
They don't call it the maze-like old medina of Fez for nothing.
I couldn't believe how narrow the streets are!
With its narrow, winding alleys and mysterious souks, exploring this ancient city is like taking a step back in time to places where the traditions and cultures of Morocco still thrive today.
(Cars aren't allowed as they would never fit. Goods are transported on mules.)
5. Rug shopping in Fez was a blast! Especially because we found the perfect one.
Apparently, shopping for rugs is one of the most popular activities in this ancient city.
The bazaars are filled with stunning handmade carpets in various colors and styles. Whether you prefer traditional Berber pieces, vibrant kilims, or intricate Beni Ourains, you can find something special in Fez.
You'll also be able to find plenty of friendly shopkeepers who are more than happy to help you find the perfect rug.
With so many places to choose from, rug shopping in Fez is an experience that can't be missed!
Onward – One of the highlights of our trip was a tour of Volubilis.
The rich history of the ancient roman ruins of Volubilis makes it one of the most important places to visit in Morocco.
Situated in north-central Morocco, this UNESCO World Heritage Site is home to some of the most impressive Roman ruins in North Africa.
"The archaeological vestiges of this site bear witness to several civilizations. All the phases of its ten centuries of occupation, from prehistory to the Islamic period, are represented.
The site has produced a substantial amount of artistic material, including mosaics, marble and bronze statuary, and hundreds of inscriptions.
This documentation and that which remains to be discovered, is representative of a creative spirit of the human beings who lived there over the ages."
You can see incredible, famous places such as the Triumphal Arch, the Basilica, and the Temple of Jupiter.
Visiting this historical site is a great way to get a sense of how Morocco's past has shaped its present, and it's worth including in your places-to-visit list!
Plus, with views of the surrounding olive groves and mountains, you can enjoy some stunning scenery while you're there.
1. Don't forget to enjoy the magnificent scenery along the drive.
Driving away from Volubilis, it was hard to remember if we were in Morocco or if we'd been transported to Ireland.
Sweeping green hills rolled out gloriously for miles.
These beautiful white flowers, as seen above in the photo, dotted our path.
Morocco definitely has the most extreme variation of landscape of any country I've ever seen.
And last but not least, Marrakech!
1. The interior gardens are lavish.
Interior gardens in Marrakech are a must-see when visiting Morocco. It's the perfect way to explore this ancient city's rich culture and history while indulging in its lush greenery.
The photo above is from a palace we toured that's located right inside the medina.
Our guide explained that interior courtyards were common in palaces. They were a place to gather, to be outside, and to seek shade.
From traditional courtyards with intricately designed Moorish arches to beautiful oases of palm trees and fountains, interior gardens in Marrakech are a unique and captivating experience.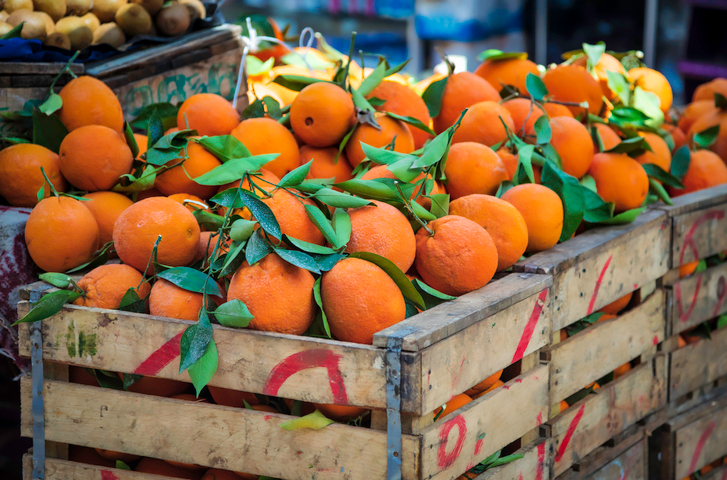 2. Oranges seem to fall from the sky in Morocco.
Have you heard of the delicious oranges of Morocco?
The oranges are so bountiful. We couldn't get over the size, flavor, color, and abundance of orange trees and oranges in Morocco.
(Small detail – but still noteworthy!)
3. The Atlas Mountains excursion was very popular.
The snow-capped Atlas Mountains in Morocco are a very popular excursion. Rising to 13,000 feet, the mountain range offers stunning views and an array of places to visit.
Trek through the High Atlas Mountains, take in the spectacular scenery or explore Ait Benhaddou, a UNESCO World Heritage Site.
Unfortunately, we didn't hike the mountains. But I learned that if you decide to trek the mountains on your journey, you may spot Berber villages, ancient kasbahs, and hidden waterfalls, along with some of the best stargazing in Morocco!
4. The Sidecar Tour of Marrakech was a riot!
Experience the best of Marrakech on a sidecar tour! This guided ride will take you around Morocco's most iconic places, from centuries-old mosques to bustling souks, while viewing the surrounding mountains and vibrant markets.
Along the way, you'll tour the old medina and pass by art galleries, design studios, and many other interesting places you won't want to miss.
I particular liked the comprehensive view of Marrakech I experienced on the tour. Riding low in my seat, I was able to see inside the little stores and down the alleyways.
Also, I was able to gain more full perspective of the city.
5. Shopping for a caftan was a highlight!
Just like many other tourists, I wanted to leave Morocco with a caftan!
We shopped in the medina, and luckily I found a robe-styled (pink) caftan and was able to wear it to an event in the desert.
The colors and fashion of Morocco add to the exotic feel of the country.
6. Visit the Royal Mansour, an over the top incredible place to visit in Morocco.
We headed to Royal Mansour, a grand hotel in Marrakech, for dinner one evening.
It's almost impossible to describe the elegance of this hotel and its grounds.
"Feel the full strength of the city's pulse as you enter the doors of the Royal Mansour. Traditional architecture, lush gardens and outstandingly sophisticated riads await you.
The design of this luxury hotel in Marrakesh incorporates the elements of an authentic medina, where guests can stroll around and discover sensual delights."
Trust me. You won't be disappointed!
7. The hot air balloon over Marrakech was a hit.
A hot air balloon ride over Marrakech is an experience like no other – it's a once-in-a-lifetime opportunity to appreciate this incredible city from a bird's eye view.
From up high, you can take in the breathtaking views of palm groves, desert plains, and snowcapped mountains; you'll even get a glimpse at some of Marrakech's most famous attractions.
As your basket drifts gently through the air, you'll feel enchanted by the beauty surrounding you.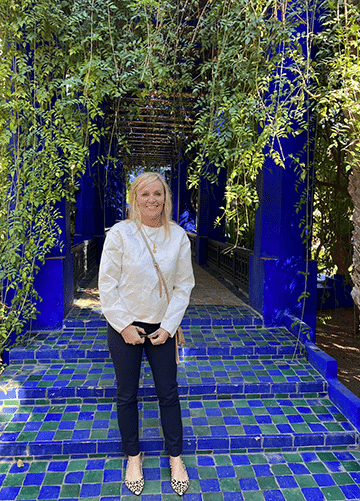 8. Visiting the Majorelle Gardens was my favorite excursion in Marrakech.
My favorite Morocco destination was the Majorelle Gardens in Marrakech. The stunning site is one of the most popular tourist destinations and places to visit in Morocco and with good reason!
The exotic blooming flower gardens are filled with plants from all over the world and feature beautiful pathways, fountains, and sculptures.
The lush vegetation is the perfect backdrop for a romantic stroll or a relaxing afternoon in the sunshine.
9. The vibrant colors of the sky, flowers, and buildings will take your breath away.
Every trip to Marrakech would be complete with a visit to these stunning gardens. Whether you're here to explore the local culture and cuisine or want to take in some of Morocco's natural beauty, visiting the Majorelle Gardens will leave you feeling enchanted.
From vibrant blues and greens to exotic flora and fauna, this spot will have your heart racing with excitement.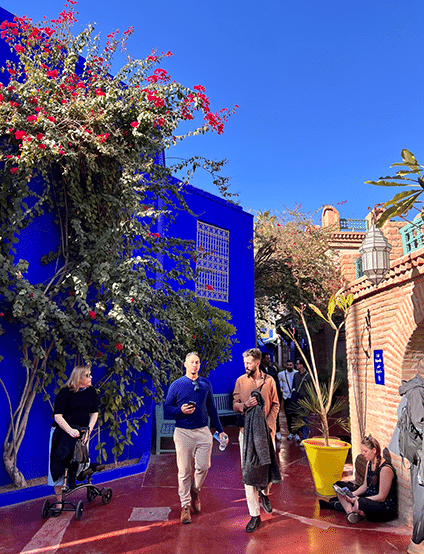 10. The Yves St Laurent Museum was delightful.
Be sure you add the Yves Saint Laurent Museum in Marrakech to your places to visit list when planning a trip to Morocco!
The museum's permanent collection features some of the designer's most iconic and historically significant works – from bold jumpsuits, crisp jackets, and dresses to vibrant prints.
And you can witness Saint Laurent's movement from black and white to color!
He famously said:
"Marrakech introduced me to color . . . although I was used to the light and the colors of North Africa, it was only later, when I discovered Morocco, that I understood my colors were those of zellige mosaics, zouacs, djellabas and caftans.
For whatever daring things I have done since then, I am indebted to the country, to the violence of its harmonies, the insolence of its mixtures, the intensity of its inventions."
The museum offers the perfect combination of fashion history, culture, and Moroccan art to explore. Plus, the museum offers exhibitions and special events throughout the year that give visitors a unique insight into Yves Saint Laurent's creative vision.
Here are a few more thoughts:
The cats of Morocco hold court.
If you're thinking of taking a trip to Morocco, don't forget to take note of the cats!
From the busy cities to the tranquil villages, felines have been an integral part of Moroccan life for centuries.
You'll surely see plenty of wild cats roaming around places like Marrakesh and Fez.
In places like the coastal town of Rabat, you'll find cats lounging in doorways and curling up in sun-drenched alleyways – it's pure cuteness overload!
So be sure to bring your camera and a few treats – these friendly felines will be sure to show their appreciation.
I can't forget to mention the tea!
You will be indulging in tea from the moment you arrive at your hotel.
Moroccans add a considerable amount of mint to each cup, bringing out the flavor in an aromatic way.
One small word of warning – the tea is strong! I learned early on in my trip that I couldn't have tea past 3 pm or would be up all night.
So many places to visit in Morocco!
From the bustling medinas of Marrakech to the minimalist, artsy Rabat, Morocco offers plenty of places to explore. Morocco offers everything if you're looking for a relaxing beach holiday or an exciting cultural adventure.
If you're looking for an adventure, hit the road and explore Morocco's spectacular landscapes. From the majestic High Atlas Mountains to the expansive Sahara Desert, plenty of places to visit in Morocco will take your breath away.
Be sure to take in the landscapes as you cover ground to get a taste of rural Moroccan life – it's a truly unique experience!
So, no matter where you choose to go in Morocco, it's sure to be an unforgettable trip. From its vibrant cities and stunning coastlines to its breathtaking landscapes, there's something here for everyone!
So, what do you think? Does this make you want to visit Morocco?
Share this with someone you know who has wanderlust today!
Are you staying local?
Take a trip to the Huntington Gardens of Pasadena!
And would you like a recommendation for the perfect New England town? Learn more about Marblehead, MA here.
Or, discover a distinctive vibe in Detroit.