Nantucket town feels straight out of a postcard, with its quaint streets, charming architecture, and stunning ocean views. There are endless things to do (and see) in Nantucket!
Whether you're strolling downtown admiring the quaint boutiques or taking a leisurely bike ride along the shoreline, something about Nantucket town feels magical.
Whatever it is, Nantucket Town has captured my heart. And don't even get me started on the fresh seafood here! From lobster rolls to clambakes, the culinary delights here are as fresh and flavorful as they come.
So, if you're looking for a charming coastal getaway, Nantucket Town is hard to beat.
Let's take a look at some things to do, along with reasons why it's all so special: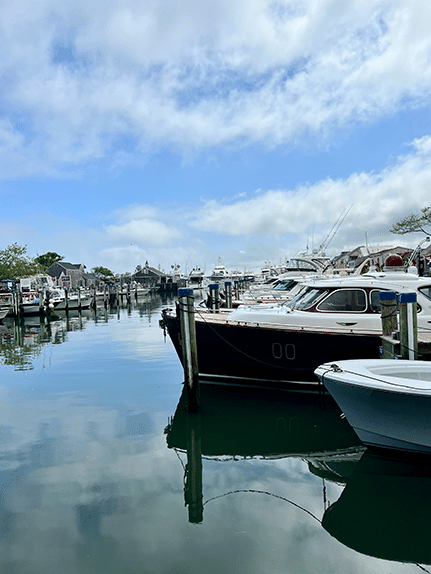 Explore Nantucket Harbor by boat or by foot.
Nantucket Harbor is bustling!
At any given moment, you'll find international mega yachts pulling in along with small fishing boats responsible for bringing in the daily yield.
From the vibrant boats bobbing on the water to the charming shops and restaurants lining the harbor front, it's a destination that truly has it all. Whether you're an avid sailor or a land lover, Nantucket Harbor is the perfect place to wander and soak up the island's beauty.
Strolling along the waterfront, I love to grab a delicious seafood meal at CRU (more on that later) or bask in the salty air and stunning scenery of Nantucket Sound. No matter how you explore Nantucket Harbor, you'll love every moment spent along this coastal jewel.
** Book a scenic cruise on Nantucket by Water here.
Also, if you're out at sea and passing by the Brandt Point lighthouse, remember to make a wish and toss in a coin. It's a Nantucket tradition.
Wine and dine – an endlessly fun thing to do in Nantucket.
Nantucket may be known for its picturesque beaches and charming architecture, but the restaurants on the island truly steal the show. From casual seafood spots to fine dining establishments, Nantucket has something to satisfy any craving.
Whether you're in the mood for a classic New England lobster roll or a gourmet French feast, the island's culinary scene won't disappoint. In the evenings, many restaurants and lit by candlelight. It is a very romantic setting.
And let's not forget the stunning ocean views that accompany many of these restaurants – talk about a feast for the eyes and stomach!
There are just so many restaurants, so little time.
Here are some of my favorites:
CRU Oyster Bar (Best lobster roll – according to my husband. Unfortunately, I'm allergic.)
Brotherhood of Thieves (Unbelievably good pub-style food – especially the blackened swordfish sandwich and the desserts.)
Lemon Press (Ideal breakfast spot. The best breakfast sandwich I've ever had. Trust me! You will love it.)
Brandt Point Grill (Everything is good. We loved the ceviche and the burrata salad. They're famous for their lobster mac and cheese. Plus, the view of the harbor is spectacular.)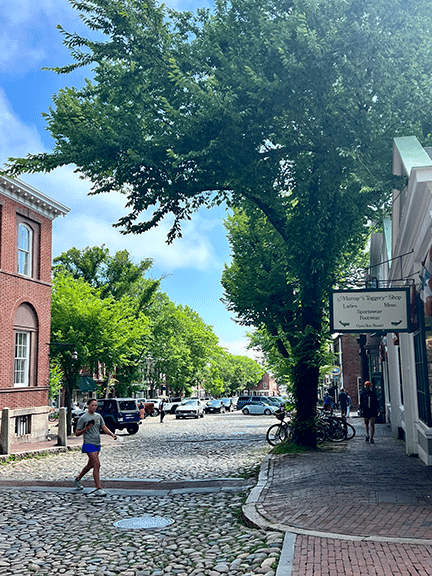 Take a stroll down Main Street.
If you're looking for a little slice of small-town America, look no further than Main Street in Nantucket. You feel like you've gone back in time. Main Street maintains its sense of nostalgia while still catering to the modern day with its endless offerings.
There's something so quaint, strolling along charming cobblestone streets and popping in and out of the locally-owned boutiques and shops.
And don't even get me started on the food. From seafood shacks to fine dining, Main Street has it all. But beyond the shopping and dining, there's a sense of community on this little stretch of road. Locals stop and chat with one another, and visitors stop and take in the sights.
It's where you know you'll always find a friendly face and a warm welcome. So whether you're a Nantucket native or a first-time visitor, make Main Street a stop on your itinerary.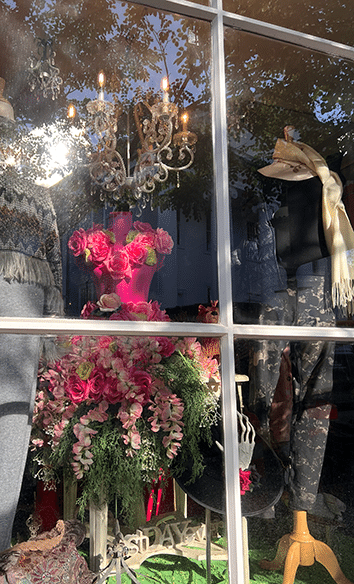 Take and peek inside the many shops along the way.
This tiny island off the coast of Massachusetts, once a bustling whaling hub, is now home to countless boutiques and galleries offering everything from handmade jewelry to one-of-a-kind artworks.
You can find everything from lingerie, dishware, decadent jewelry, perfect hostess gifts, and more.
My favorite shops in town are:
The Lovely (Great assortment of dresses that stand the test of time.)
Murray's Toggery Shop (Basically everything and anything you could need.)
Nantucket Bookworks (The most adorable bookshops are on Nantucket. This one is my favorite.)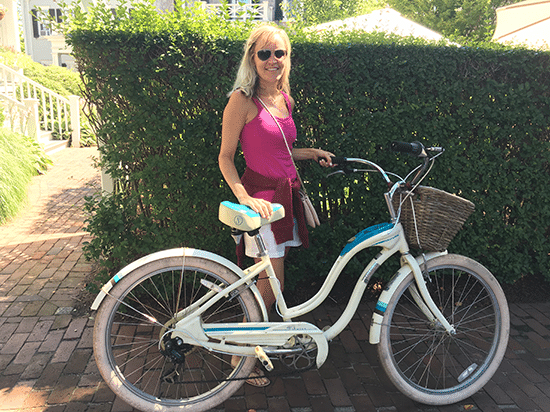 Rent Bikes to Explore the Island.
One of the best ways to explore Nantucket is by bike. Miles of scenic bike paths wind through the island's beaches, forests, and marshes. Bike rentals are available all over town.
I've never experienced a more bike-friendly place! You genuinely don't need a car while visiting the island.
From the quaint town center to the pristine beaches, this island is full of hidden gems waiting to be discovered. As you pedal along, take a moment to pause and appreciate the salty breeze and idyllic surroundings.
Nantucket Gardens are truly beyond.
Ah, the gardens of Nantucket. If you want to feel like you're walking through a fairytale, then exploring the gardens of Nantucket is a must. The beauty here is breathtaking, with many stunning blooms, shrubs, and trees.
This island has no shortage of verdant vistas, from posh private gardens to charming public spaces. So take a stroll, take in the sunshine (or maybe even a drizzle if you're feeling daring), and allow yourself to be whisked away by the enchanting gardens of Nantucket.
Your senses will thank you for it.
Special shoutout to the shops at Straight Wharf.
Straight Wharf is home to various shops selling everything from clothes and jewelry to art and home decor.
What makes shopping here unique is the style of the shops. They're petite specialty boutiques with views of the harbor.
I love browsing up and down along Straight Wharf and always find whatever I seek. 
My favorite shop at Straight Wharf: Remy. Remy Stressinger has an incredible eye for procuring the perfect summer dress.
And she happens to be one fantastic lady. Read more about Remy here.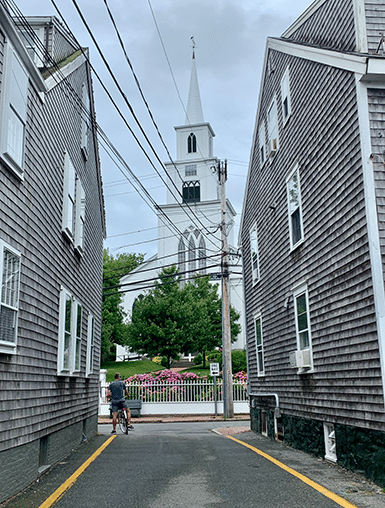 Architectural beauty abounds in every direction you look.
Regarding architectural beauty, Nantucket is an absolute feast for the eyes. The island proudly displays its architectural diversity, from its signature grey-shingled houses to the grandeur of the Federal-style buildings.
You don't have to be a seasoned architecture buff to appreciate the beauty of Nantucket's buildings. Every street corner offers a new surprise, a delightful juxtaposition of old and new, grand and simple.
Whether you're strolling down cobblestone streets or admiring the lighthouses scattered throughout the island, Nantucket's architecture will surely transport you to a time gone by.
Some of my favorites:
Check out the Nantucket Atheneum. Pacific National Bank at the top of Main Street is grand and striking. Also, the churches scattered throughout town are all interesting and beautifully ornate. 
Bonus: For my favorite street in town architecturally, take a walk down Fair Street. See if you can spot the 'wedding cake topper' house!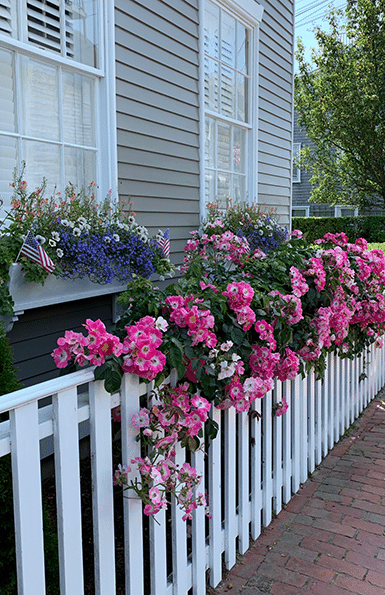 One of my favorite things to do in Nantucket is explore the window boxes.
As you stroll through the charming streets of Nantucket, take a moment to stop and smell the flowers – literally. The window boxes adorning the homes and businesses are an attraction in and of themselves.
Bursting with vibrant blooms and verdant foliage, these boxes offer a glimpse of the island's natural beauty and the homeowners' impeccable taste.
It's not just about aesthetics; these boxes also serve a functional purpose, providing shade and insulation for the buildings while adding a dash of personality to the façade.
So next time you're in Nantucket, explore the window boxes and soak up some of that New England charm.
An iconic thing to do while on Nantucket: Enjoy the beaches.
Nantucket has some of the most beautiful beaches I've ever seen. The soft white sand, and lack of rocks and seaweed, are notable!
Jetties Beach is a town beach. You can easily pack up a beach bag and head there from anywhere in town by a short walk.
The beach lies along the island's northwest shore just behind Nantucket Harbor. The wide and deep sandy beach is very popular for sunbathing, swimming, or playing in the sea.
Another favorite place to go in the afternoon is the Sandbar at Jetties. Great music, tasty fish sandwiches, and an extensive list of cocktails await!
Bonus: If you decide to leave town, here are some things you mustn't miss!
For over-the-top charm, head to Sconset. Here you can explore the Sconset bluff walk and Sankaty Head lighthouse.
And, my personal favorite: Cisco Beach. Wild waves provide a constant breeze that serves well when the temperatures rise. From the beach, take a short walk to Cisco Brewers. You must experience it to understand its mass appeal. Be sure to check it out!
So, what do you think? Are you going to book your trip? If your summer is feeling busy no need to worry. You can visit in the fall. The island quiets down after labor day, so locals love that season.
Do you know someone interested in visiting this tiny jewel of an island? Please forward this to them today!
Interested in reading more?
Check out 15 romantic small towns to visit in the USA.
Would you like to explore a charming town on the mainland? Try Marblehead, MA.
Are you completing your last-minute summer plans? See nine great ideas here.